TikTok app is a user-friendly social media platform with a smartphone app. Short video bits are produced, scheduled, and consumed by users.
However, it goes without saying that if you can not hear the videos, you will not enjoy watching them. Let us go at the root of your TikTok sound issue in a bit more detail.
TikTok was developed by Tedance, a Chinese company, to allow users a platform to showcase their unique traits.
You can find everything on the website, from recipes to dancing competitions, as over a billion people use it every day. Regardless of their genre, most videos feature sound.
With sound down, it will be tricky to keep up with the most recent TikTok app trends and their popularity. Whether you are unable to capture sound or hear it through your speakers, this should be a quick fix.
Let us examine some common audio issues with the TikTok app. Despite given the fact that TikTok offers a video platform, watching videos without sound is not at all enjoyable.
Even though some can be just as funny in silence, the vast majority of videos require sound, whether that is to help deliver the punchline or simply to establish the right mood.
Since the majority of TikTok viewers do not realize how important sound is to video until it is gone, the TikTok experience will rapidly suffer if the videos you share lack audio.
Why are videos on TikTok not playing any sound?
Start following these steps to fast restore sound to your TikTok app.
Check your device's volume.
Check the volume on the phone. Holding down the volume button will ensure that your volume is not completely off. Regardless of how obvious it might appear, check your volume controls.
These are commonly changed without your knowledge, for example, when you enter a place where silence is required or even if the button has been pressed in a pocket or bag.
Disable the silent mode on your device.
You will not be able to hear any TikTok videos if your phone is set to quiet. Hold down the mute button to see if that was the problem.
Turn off then back on your device.
Issues with other apps could cause problems with your TikTok app. Any arising issues will be resolved by restarting the phone.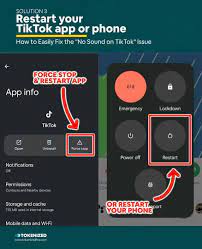 Consider testing your device
For IOS/iPhone users –
Users of iOS and iPhone should now navigate to Settings > Sounds & Haptics. The ringer and alerts slider should be moved back and forth several times.
Your speaker may not be working at all if you do not hear any sound.
For users of Android-based devices:
Dial *#7353# to access your speaker button. When you depress this button, music ought to begin playing through your speakers. If you are unable to hear this sound, there is a hardware problem.
Additionally, you might want to have a look at the TikTok app at this point if your speakers are still not producing any sound. Let us put these diagnostic methods to the test.
Examine the TikTok app for updates
If an update for the TikTok app is required, iOS users should check the app store. If you have an Android smartphone, check the Google Play Store to see if your TikTok app needs to be updated.
Reinstall the TikTok application.
Remove TikTok Reinstall the TikTok app after erasing it from your mobile device. By doing this, the TikTok data on your phone will be deleted.
Please do not be concerned about your account information. Your account will be used to store your data. Just reinstall the TikTok app and sign into your account.
Check and verify your device's cache section.
Problems that may have arisen as a result of a mistake when writing data to the cache partition are occasionally resolved by wiping it. To do this, you must put your phone into recovery mode.
By selecting "wipe cache partition" from the recovery menu using your volume keys, then restart your phone by pressing the Power button.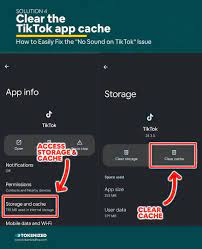 Why is there no sound in my recorded video?
Any sound issues you are having could potentially be related to your own videos on the TikTok app. Users of TikTok frequently express displeasure over this.
Investigate the issue with your upload's lack of sound. You can sing, yell, rap, tell jokes, or share music on TikTok with billions of people all over the world. It is a little more difficult to do this if your video's sound is damaged. Let us look into the ways to fix your upload.
Make sure the TikTok app has access to the device's microphone.
Check to see if your settings are preventing your microphone from working by Opening the Settings app, selecting the TikTok app, and checking that the microphone toggle is set to the green position.
This indicates that the app is authorized to record sound using your microphone. This shows that your microphone can record sound using the app if you give it permission to do so.
The Copyright infringement may be blocking the sound on TikTok.
One of the most commonly reported problems with the sound on TikTok not working is copyright violation. Due to this problem, a pop-up message indicating "this sound is not available" or "your video has been muted" will show. Continue reading to learn more about the issue at hand.
The TikTok app must be installed to prevent copyright infringement, but the sheer volume of uploaded videos requires them to automate the process, which frequently leads to mistakes.
Its technology can mistakenly identify other noises as music, and even if it is music, it cannot tell whether it is fair use or whether the user has permission to submit it.
However, this quick fix will help to ensure that your video is released and that anybody who watches it may hear it exactly as you intended: with its original audio. After adding a sound, reduce the level by zero.
The TikTok app will mute videos for the copyright infringement policy.
Before being posted online, your uploaded videos are reviewed by artificial intelligence (AI) software. If the AI software recognizes the sound from your video, it will automatically silence your video.
The AI software has the potential to accidentally muffle sound. Follow these steps to publish your video to the TikTok app and tweak the sound.
After tapping the plus icon, crop the video as necessary before clicking the Upload button. choose Next. To add any sound, go to the editing page and choose Sounds > Add Any Sound > Tap Volume > Slide the Added Sound to 0.
The entire TikTok app library is licensed, so when you add a sound, you are adhering to community guidelines. If you turn on the original sound, you can hear it.
You might find that while everything else appears to be working OK, the video you uploaded is silent. This is because the TikTok app would mute videos if it believed there had been a copyright violation.
In essence, the automatic process involves the TikTok app listening for sounds that its AI identifies as music. This is not always the case because it might not be music or you might own the rights to it.
You can get around it, though, by re-uploading your video and making the necessary changes within the TikTok app.
Tap the plus icon, then the Upload option to re-upload your video. The trimming screen will be displayed to you. Trim the video if necessary, then click Next.
Tap Sounds on the editing screen. TikTok won't be muted if you add a sound from its collection because such sounds are licensed. Simply add any sound and then select Volume.
Two sliders will be present. The sound that was on your video will be played at its original volume. The sound you just added is known as added sound. Make this 0 now. Because of this, even though a sound has been added, it will not be audible.
Conclusion
Having technical issues is never fun, whether you are a seasoned TikTok user or not. It's possible that this diagnostics post helped you fix any sound-related TikTok problems.
Additionally, keep in mind to read our list of the top five techniques to improve the quality of your TikTok camera now that you may submit films.