On your smartphone or tablet, Vodafone data and voice roaming are not working. Are you on board yet unable to utilize cellular data or make or receive calls? This article will further assist you with identifying the cause of the problem and the possible solutions accordingly.
International roaming is the practice of using your phone on a foreign network when traveling abroad and using the SIM card that your network provider has provided.
Outside of the network operator's specified service area, you are permitted to use your mobile device while roaming.
Many users complain that they are unsuccessful to use their Vodafone SIM for wireless broadband and phone roaming. When the phone moves away from the Vodafone network and enters a foreign network, this issue occurs.
Let us explore the causes of this issue at hand. Vodafone offers its consumers excellent mobile data service using 4g technology for faster internet.
The average Vodafone 4g download speed is faster than that of its rivals, according to our research. The world is out of your understanding if mobile data isn't enabled on your phone, and you don't want this to happen.
Mobile data does not always guarantee constant, uninterrupted data connectivity. As a result, you can encounter some problems and errors that limit your ability to access the internet on your mobile devices.
Why doesn't my Vodafone Roaming network function properly?
The following causes could be the reason for your Vodafone roaming not working.
Your Vodafone SIM is not activated for voice or data roaming.
You are dialing to inform a foreign country using an incorrect number format.
You are traveling to a nation where Vodafone does not offer international roaming.
Your smartphone is operating in airplane or flight mode.
You have turned on Vodafone roaming but did not reset your phone.
It is overdue on your Vodafone account.
Vodafone refuses to receive any of your international calls.
How can I turn on roaming for my Vodafone network?
You can make and receive calls, send and receive texts, and use mobile data while roaming outside of the Vodafone network.
This will take place automatically if you have roaming enabled. However, your account may have noteworthy calling expenses.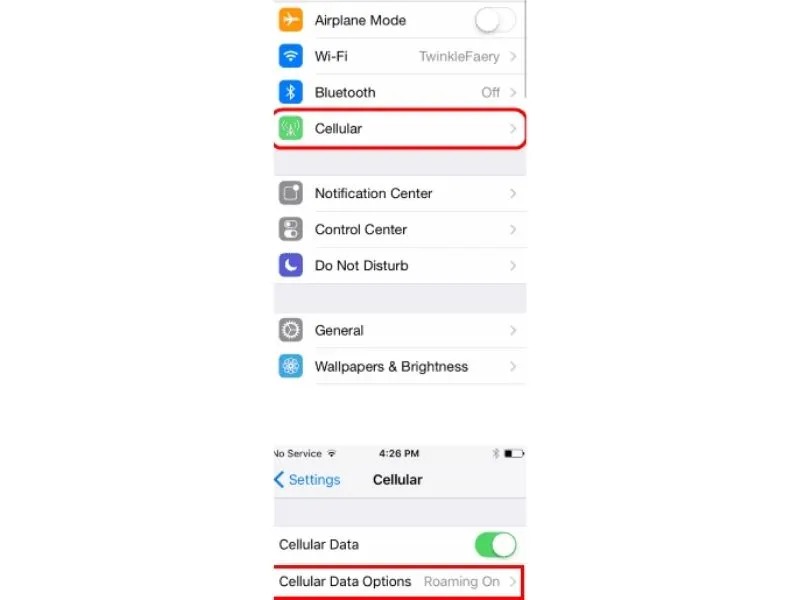 Follow these instructions to enable phone and data roaming on your Vodafone SIM.
For users with Android:
Open the Settings application on your Android smartphone.
Click on SIM card & mobile data after that, and then click on your SIM.
Toggle the switch to "Data roaming" in order to enable it.
For users with iOs:
Choose Cellular, Cellular Data, or Mobile Data in the Settings app.
Following that, select Roaming.
Make sure that the switches for voice and data roaming are turned on.
How do I resolve my roaming on the Vodafone network?
Although Vodafone's roaming service is active, the reason why can't you use it outside of the country where you live? To resolve the problem, try the following troubleshooting methods.
Start by rebooting your device
You will have to restart your phone or device for the changes to take effect once you activate the roaming service while traveling.
You are unable to use Vodafone international roaming if you have not done so. Hence, attempt restarting your device to see if it resolves the problem.
Disable the flight mode or airplane mode
When traveling abroad, individuals frequently activate flight mode or airplane mode. After landing, people often neglect to disable the option, which results in roaming difficulties.
Checking to see if your phone has been set to Airplane mode is therefore a good idea. To use Vodafone SIM without any roaming problems, switch off the option if it is active and restart your phone.
Enter the proper format while dialing
People have an inclination of contacting contacts from their phone's dialer while they are traveling or roaming. On the phone, they might have nevertheless saved their contacts without the country code.
As a result, calling them directly from the contacts list may result in a call error due to a number format issue.
For instance, if you want a roaming call to be accepted while you are in Germany and wish to call a UK number, you must add the +44 prefix.
Reset the network settings
Numerous issues regarding WiFi, cellular networks, or Bluetooth connectivity can be resolved by resetting the network settings. Several individuals have had success using this approach to fix their Vodafone roaming problems.
When using an Android phone, do this:
Open the Settings application on your Android smartphone.
Select "System" or "General Management" by clicking.
Next, select "Reset options" or "Reset" from the menu.
Following that select "Reset network settings" from the option list.
On an iPhone, reset the network settings as follows:
Open the app slider, then select Settings.
Go to "General" and select "Reset."
Now select "Reset network settings" from the menu.
Any saved Bluetooth or WiFi networks will be deleted if the network connection was reset.
Check to see if Vodafone roaming is readily available
Confirm that Vodafone offers its roaming services in the country in which you are traveling if your roaming on Vodafone is not functioning.
To make calls home, you may purchase a prepaid (pay as you go) SIM if you are in another country where Vodafone does not have a roaming partner.
Get support from Vodafone
Try contacting Vodafone to request that they identify and address the issue from their end if the previously mentioned troubleshooting techniques failed to fix the roaming issue.
It is possible that Vodafone may have disabled your international or premium calls. However, you can turn off call blocking by getting in contact with Vodafone customer service.
Furthermore, Vodafone may have disabled your roaming service if your account is past due. You must settle a bill balance that is past due in order to deal with this.
After the fact get in touch with Vodafone customer service to have your call and data services enabled.
How can I choose a roaming network?
Are you unable to roam on the network that Vodafone chooses for yourself? You might try manually configuring a network. If you select a network manually, however, your phone will lose network connection when the chosen network is no longer accessible.
How to do it:
Go to the Settings section of your phone and select More Networks.
Tap on Network Operators under the Mobile Networks section.
Turn off "Automatically select the network" now.
Next, select "Search network manually" from the menu.
Finally, pick a network to roam on using your Vodafone SIM.
Chat with the VI representative through WhatsApp
Consider doing the following:
Activate the link
Tap "Continue to Chat"
Use Whatsapp Web.
You will be asked to enter the VI number that is causing your problem and transmit an OTP here.
Thankfully, this OTP will also be delivered to your registered email address (I hope you have set this one).
Type the OTP in
If you experience an "Oops! We appear to be experiencing a technical issue. Please click "Resend OTP" and try again.
Your representative will be assigned, and hopefully, they can resolve this problem. I hope that this piece was helpful to you.
Conclusion
We really hope that this information was helpful in resolving your smartphone's Vodafone roaming issue. Keep in mind that the foreign network you are using might be having signal or service problems.
Unfortunately, because they lack access to a partner or foreign network, Vodafone lacks the ability to guarantee that everything will work properly.